Landscape Photography and wild camping - the perfect partners
Photographing landscapes can be a tricky past time. You have to spend a fair bit of time out in the countryside, in a range of weathers, waiting for the perfect light. And this perfect light is often at sunrise and sunset which means you have to be on location at the earliest and latest times of the day. For certain places, like Blea Tarn in the Lake District, which are just a stones throw from a road, this is not a major issue as a short walk can get you into place. However, for those stunning locations that are off the beaten track and several miles from a road itís not so easy.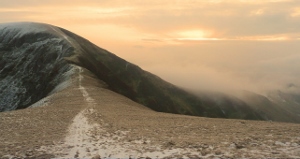 Itís a fair walk in from the road to this spot but there is another way of getting here for sunrise
This is when itís great to pack your tent and make a night of it. Camping up in the hills, or wild camping as itís known, is a great way to be out on location at the best time of day for photographing landscapes. If you pitch your tent in the right place you can literally roll out your tent with the most perfect sunrise playing out on your doorstep. In fact on one of my recent Landscape Treks trips to Snowdonia we didnít even have to get out of our sleeping bags to shoot a stunning sunrise.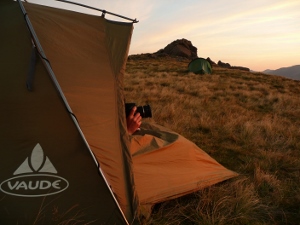 sometimes you donít even need to get out of bed to get this view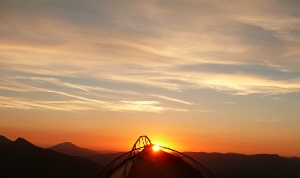 Carrying all the gear you need for a couple of days or more allows you to fully appreciate your surroundings as you are in no hurry to get back before it gets dark. And being up in the hills when most folk are heading back home means youíll often get views and conditions that no one else will quite experience. This process of moving slower through an area really makes sense when it comes to photography as you spend more time taking in your surroundings and any subtle changes in light. You can even be more flexible with your route and follow the light as it changes or just your own curiosity.
So why not pack your lightweight camping and camera gear and get out for a unique experience. If you donít have all the camping gear you need, donít fancy carrying it all or youíre not sure where the most stunning places to camp out are then come and join us on one of our fantastic Landscape Treks trips.
Paul Allen
07977142885
info@landscapetreks.co.uk
www.landscapetreks.co.uk